---
---
Middle of Year (MOY) Technology Survey (3rd, 4th, 5th Grade)
---
---
Sites for Research
Easy to use features and interesting articles from teacher approved magazines and reference books. Students in Context designed for secondary students. Over 510,000 photos, maps and flags. Includes newspaper sources, a dictionary, enhanced Literature and Science databases. Translates to French and Spanish. You can email, cite, export, bookmark and listen. There is a mobile app for your portable handheld devices. NEW database for English Language Learners (ELL)
---
A collection of over 50 databases with curriculum-aligned reference content, full-text newspapers and periodicals, video and audio segments, easy to search image galleries. Aligned to 21st Century themes. Translates into multiple languages, read feature, audio download, email articles and a mobile app for your portable handheld device.
SSYRA Reading Challenge
To qualify for the trips this year, students must either read and pass a quiz (80% or higher) on all 15 Sunshine State Readers or 8 of the Sunshine State Readers and all 7 of the Kingdom Keepers Series.
---
SSYRA Canvas Course
(enroll code: LBYY6T)
---
Kingdom Keepers Canvas Course
(enroll code: KRKE9J)
Homework Help!
Pasco County Schools students can now access Insync Education Online for homework help, test prep, and more! Click on the banner below to get started.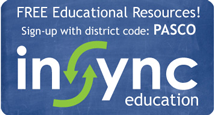 General and Search Websites
Kid-Friendly Search Engines and Research Tools
Other Resources and Homework Helpers
Math Websites
Multiplication and Times Tables
Math Facts
Money
Art, Music, and Phsyical Education Sites
Science Websites
Science Series Online Access
Animals
Earth & Space
Energy
Inventions & Inventors
Keyboarding
Poetry
Reading
Webquests for Reading & Research
Sunshine State and FRA Sites
Vocabulary
Writing
Social Studies Websites
Social Studies Series online access
Government
Significant American Events
Create Timelines—and Share on the Web
Decades in History
Economics
Maps